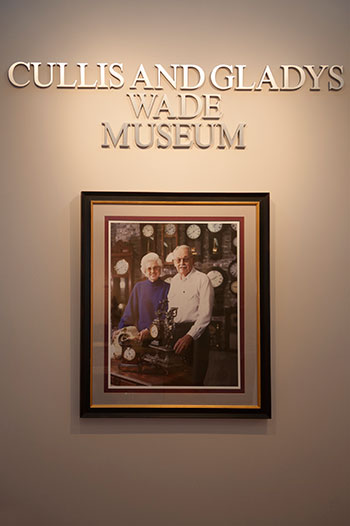 Renowned antique clock collector Charles Cullis Wade of Newton, graduated from MSU in 1940 with a degree in electrical engineering. Following graduation, Wade worked in cotton gins, built a saw mill and several tung oil mills, and served in the Navy as a SeaBee. He moved to Bogalusa in 1948 after building the Wade Tung Oil Mill in the Louisiana city. In 1955, Randolph Cassidy became Wade's partner and they formed C & W Construction Company and built the local airport. The two men also had the No. 1 polled hereford farm in the state, Wade later owned a radio station in Georgia and was a tree farmer in Louisiana and Mississippi.
In 1967, Wade married Gladys Valentine of Laurel and they began to collect antique furniture for their home in Bogalusa. In Laurel, Gladys Wade worked at Masonite for 25 years and was also a Mississippi bowling champion. After moving to Bogalusa, she volunteered as a Pink Lady at the Bogalusa Medical Center for 35 years.
While looking for antiques in Winona, the couple bought their first antique china clock, and it is in the museum collection, along with the other 400 clocks that they accumulated during their marriage. Both Wades worked on the clocks and enjoyed sharing many hours together as they found new and different clocks from all over the United States.
The Wades gave generously toward the football stadium expansion project and funded a charitable remainder trust which has also benefited the Mississippi State University athletic department.
Mrs. Wade passed away the summer of 2004 and Mr. Wade the fall of 2012.